Construction & Engineering
Engineering and construction companies lag significantly in today's digital environment. Compared to other industries, most still rely on spreadsheets, legacy on-premise systems, and manual processes to keep track of customer interactions. If this sounds familiar, we can help you take control of your construction projects with visibility into every step of the process.
The Cirrius Solutions team has helped many companies in the engineering and construction space digitize their businesses with Salesforce CRM. We understand that streamlined communication is key to making your business a success. We have helped numerous companies effectively consolidate critical customer information onto the Salesforce platform. With a single source of information, these organizations have been able to increase profitability by having those data insights at the ready help develop stronger customer relationships.
Key Improvement Areas:
Sales processes streamlined and managed with clear paths to help you close more deals
Prevent miscommunications or dropped tasks that cost you time and money
Project management and tracking tools
Capital project and infrastructure budgeting
Bid management and syncing across the organization
Insights into tracking costs and faster revenue recognition
Better real-time tracking of project estimates and costs
Automations to increase field productivity without adding headcount
Inventory and resource tracking across multiple locations and projects
Improved data insights for executive decision making
How We Can Help:
Centralization of data onto a single platform
Standardize your sales and operating processes across the organization
Better organization of projects, bids, clients, suppliers, partners and subcontractors
Accelerate the bid process and revenue recognition using Salesforce CPQ
Streamline scheduling, resource assignment, travel time and worker communication
Provide better tracking of team hours, expenditures and change orders
Tracking of inventory and assets across construction sites
Set up a document management repository for quick access project documentation
Align best practices and centralize workflows for each project
Save and share plans, files and photos anywhere, anytime, from any connected device
Mobile platform for real-time communication
Protect yourself from legal disputes with unlimited access to historical project information
Access real-time metrics to measure field productivity and make better decisions
The Cirrius team will configure Salesforce quickly to meet the specific needs of your business as it continues to evolve and grow.  This includes platform setup, process optimization, workflow automation, increased revenue recognition, better visibility into key metrics, and integrations that work seamlessly with your backend systems. We will unite the project teams in a single, collaborative space, so you can deliver high-quality projects on time and on budget.  Ultimately, we can help you build a reputation as a leader that produces quality work, completes projects on time, and meets budgets consistently to win more work!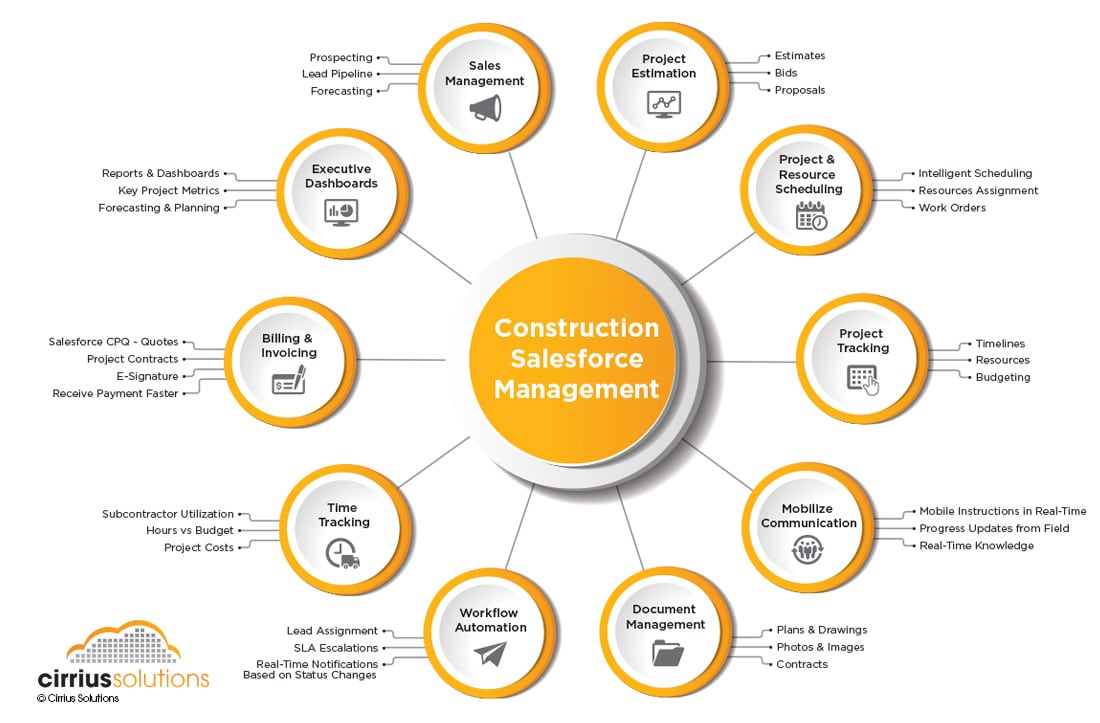 If you're ready to find out more about how the Cirrius Team can help implement, streamline, or revitalize your Salesforce organization with a better experience, let's talk.