Field Service Management – FSM
In today's competitive service landscape, the ability to provide exceptional service and build lasting relationships with your customers is essential.
Watch How Field Service Management (FSM) Can Help Your Business
Salesforce's Field Service Management allows organizations to quickly adapt to changes in the field and provide best-in-class service to their customers.
Do you have a problem keeping up with rapid changes to your field reps dispatching schedules and ensuring they have the right information to get the job done? With Field Service Management service reps in the field have the real-time communication tools needed to get the job done as efficiently as possible, saving your organization significant friction, time, and money. Powered by Salesforce©, Cirrius Solutions creates personalized field service solutions to meet the rapidly changing business needs of their clients.
Field Service Accelerator Package
Cirrius Solutions offers our clients the continuously expanding Salesforce Field Service Accelerator application that extends Salesforce's ability to deliver customer-focused service experiences. Our Accelerator is available for a one-time installation fee, giving your team full ownership after the initial setup.
The Field Service Accelerator package provides pre-configured Sales, Service, and Field Service functionality. Field Service managed package that supercharges time-to-value by cutting implementation time by 75% and reducing up-front implementation costs by 45%.
2-Minute Accelerator Overview:
5-Minute Accelerator Demonstration: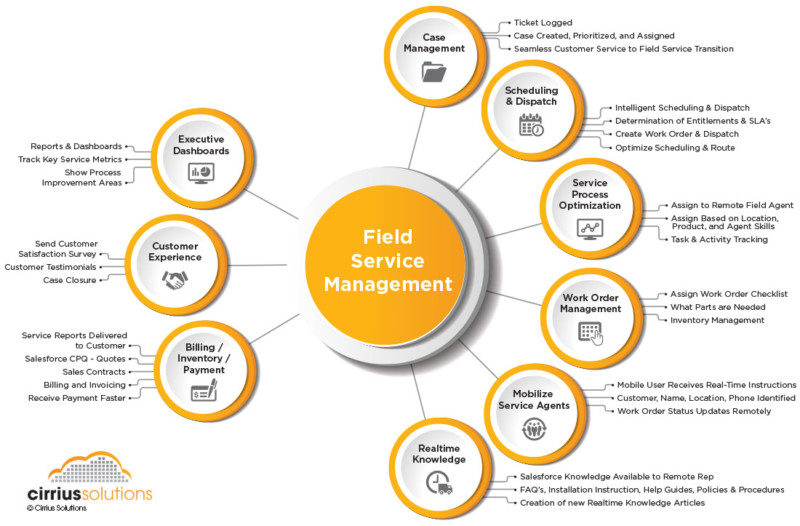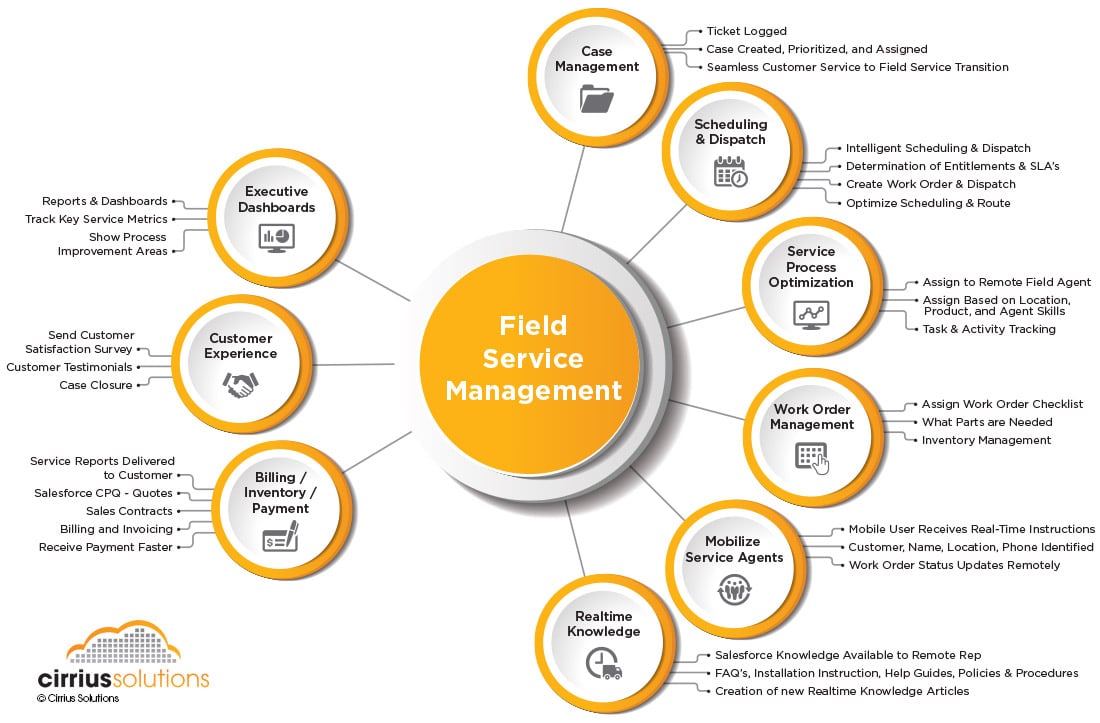 A major problem that we solve for our clients is eliminating non-revenue driven service requests by leveraging analytics and AI. We are able to monitor service issues to accurately predict when the most common points of failure will occur. Through this process, we help our clients set up proactive asset replacement notifications so that they can transform revenue draining events into valuable sales opportunities. By leveraging these opportunities, our clients improve customer satisfaction and drive revenue at the same time!
Major benefits of Field Service Management solutions include:
>> Provide a 360 view of the customer enabling superior customer service
>> Reduce non-revenue driven service requests
>> Optimize multi-day field service appointments with route optimization
>> Reduce agent downtime and improve the employee experience
>> Manage a remote service workforce with real-time notifications
>> Track service assets and entitlements across the organization
>> Provide a simple UI for dispatchers to manage daily service appointments
>> Easily route new client work orders by territory and agent skillset
>> Manage timesheets to track the time your field service agents are spending on tasks
>> Provide mobile access to work orders, client location, inventory, and provide knowledge
>> Build maintenance plans to track preventive maintenance using auto-generated work orders
>> Manage return orders related to inventory returns and repairs
>> Reports and dashboards to provide execute visibility to key field service data
Cirrius Solutions has been helping clients transform their field service organization for over 10 years; however, with the introduction to Field Service Management in 2016, we have been able to revolutionize how they provide service. In addition to being Salesforce experts, our team is seasoned in helping service-driven businesses make the digital transformation. No matter what your industry, the Salesforce field service management cloud offering will create efficiencies for all aspects of your service-driven business. In addition, the Field Service Management Mobile application will enable field technicians to receive work orders, update job progress, access inventory, and utilize knowledge articles while on the road. The Salesforce Field Service Management application can help you create cost-saving efficiencies that can improve your bottom line while also providing service that will ensure continued customer loyalty.
Increased Productivity
We understand that last minute change is a constant, but no industry experiences change quite like field service. Service appointments are scheduled, then rescheduled with very short notice, and last-minute emergency calls pop up regularly. Technicians and dispatchers need to pivot quickly to not lose valuable time and money on a suddenly open schedule. Using the Field Service Management mobile app, technicians in the field can receive real-time alerts, schedule changes, and increase site visits, which ultimately improves your bottom line.
Route Optimization
Create a customized process for your organization with Field Service Management to assign work orders and appointments to the right resources based on proximity, skillset, workload, and availability. As a result, you'll enjoy cost savings from smarter route planning, increased employee productivity, and decreased wait time for your customers.
Better Data Accuracy
Field Service Management software empowers service technicians by providing them with greater access to data such as customer service tickets, inventory changes, invoicing history, and a comprehensive knowledge library. With this information available on their mobile device, they're able to better comply with SLA's to provide best in class service.
Increased Customer Satisfaction
The best organizations in the world seek to exceed customer expectations. In today's competitive environment you need to be able to support service call scheduling in multi-hour windows, real-time notifications with special instructions, updates to inventory, and changes to work orders. With field service mobile optimization technicians can improve scheduling accuracy and stay in close contact with customers. We think it is the details that make the difference!
Accelerated Growth
If you're a larger organization or looking to expand, Salesforce Field Service Management is ideal because it can grow with your business. Each instance can be customized for a single or multiple business lines, as well as sales and field service tech teams. Cirrius Solutions can work with you to integrate the Field Service Management workflow into your sales process. No matter what your organization's size or future growth plans, Field Service Management can be tailored to meet your business needs – and exceed expectations.
Increased Mobility
The Salesforce Field Service Management mobile application delivers next-generation mobility for your service team. Your service reps no longer need to pick up paper work orders at the start of the day, with Salesforce Field Service Management contractors can simply reach for their mobile device while out in the field, and enter the required data directly into the system. This new digital process also helps eliminate data-loss and incomplete paperwork. Even if the service technician has no connectivity in the field, they can use their Field Service Management app offline, save their work and when they are back online, everything will be updated in the background automatically.
Dynamic Knowledge
Give your field service agents real-time access to a knowledge base on the road where they can search for articles, ideas, FAQ's with step by step instructions to help them resolve their questions.
Eliminate Non-Revenue Service Calls
Use service reports and predictive analytics to create a proactive component replacement process. Understanding key failure points and timelines will create enhanced customer satisfaction, reduce service costs, and will generate new revenue opportunities.