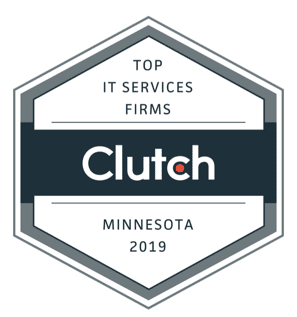 For the last 10 years, Cirrius Solutions has worked in strategic consulting, software development, and IT consulting to help businesses upgrade their workflow for optimal success. Our work in the industry has earned us the title of a top IT services firm in Minnesota by Clutch! We are also ranked first among CRM consultants in Minneapolis and we are so proud.
"Getting recognized by Clutch has been instrumental to the success of Cirrius Solutions! We value their ability to collect honest client feedback and distribute to customers across the US."
– Chad Anderson, Cirrius Solutions CEO
Clutch is a B2B ratings and reviews firm in Washington, D.C. that releases an annual list of leaders in different industries according to location. The leaders are chosen through client reviews, market presence, and work experience.
Client reviews are the most important part of the equation because they tell us the full scope of a service provider's abilities. Reviews are collected through personal interviews between Clutch analysts and service providers' previous clients. Our clients gave us a 4.8 star ranking! Below is a quote from one of our happy customers:
"I know that Cirrius Solutions employs the best coders, who will be able to figure out exactly what's happening."
– Senior Product Manager, Radio Station
Clutch has two additional sites that connect businesses. The Manifest is a business rankings and news site that works to identify the best in Minneapolis across numerous industries; they ranked us a top software developer in Minneapolis!
The other sister site, Visual Objects, is an online portfolio site for creative firms like ourselves!
Thank you again to all of our clients for allowing us to create such note-worthy products and then taking the time to leave us reviews on Clutch! This award would not be possible without you.
If you're interested in collaborating with us, please visit our website and get in touch!