Okay, fellow Minnesotans, this is not a drill. It's showtime. Our Trailblazer friends are coming for a visit, so it's time to show them what we've got.
For a week in late July, downtown Minneapolis will play host to not one but two Salesforce conferences, right in our seasonal primetime. Midwest Dreamin' will start us off July 20-22, followed by WITness Success will run July 22 & 23. For those lucky enough to stay with us the whole week, you also have an opportunity to see all that Minnesota and the Twin Cities have to offer during your stay.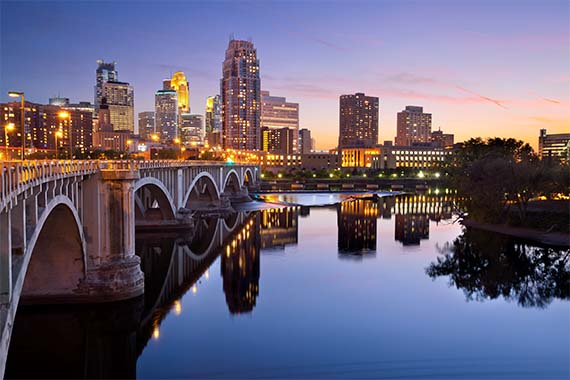 "But Allie, who are you, and what's so great about Minnesota, anyway?"
Glad you asked.
My name is Allie Lawler, and I'm on Cirrius's Team Delta, one of our Technical Team Leads. I'm also a Platform Champion, Service Star, Trailblazers for the Future Trainer, and much more. Still, more important than anything else, I am a born-and-raised Minnesotan, and telling other people what's so great about my state happens to be my specialty. I'm here to help you get excited about your Minnesota trip, help you find places to see and things to do, and give you enough fun facts about the North Star State to convince your friends you're about to move here. Besides convincing you that this is the greatest place on Earth, we'll explore some of the sessions we're looking forward to at Midwest Dreamin'. So buckle up because it's required by law here.
3 Common Myths About Minnesota
Myth #1: Why is it always so cold?
"Always" is a subjective term. Winter 2018-19 indeed had windchills up to -70 degrees, but it's not always like that. You're visiting during the best time of the year. It won't have the stinging heat of August, but it'll have been summer for long enough that even the lakes will have warmed up and be great for a quick dip.
Myth #2: Everyone there will be super nice, right?
While those who live here sometimes use the terms "nice" and "passive-aggressive" interchangeably, this one's true! Honestly, especially in the summer, we're just in such a great mood about it being nice outside that the happiness tends to bleed into all of our interactions. I do not doubt that my fellow Minnesotans will make you feel right at home. Some of us will likely invite you to our homes for a potluck.
Myth #3: The accent. Oh boy, the accent.
I'm not going to say that you 100% won't hear "the accent" a la Fargo, but I will let you down and say it'll be a stretch, especially in the city. What you will hear is a lot of "Ope" (guilty), "Hey there," and "Oh yeah!"
Now read on for what you really came to see.
What MWD Sessions Do I Need to Keep an Eye Out For?
Ah, the good stuff. Obviously, you're on your way to Minnesota to expand your Salesforce knowledge! MWD offers a variety of sessions catered to everyone from end-users to developers, and I've listed a few things I won't miss below! Head to MidwestDreamin.com for the full session schedule.
Wednesday
2:30 pm  The State of the Independent Salesforce Consultant Ecosystem
This session intrigues me as a leader at a consulting firm–I want to know what others' perspectives on the ecosystem look like! I believe it's important to know what things look like from a business standpoint and individually to know our worth in this environment.
Thursday
8:00 am – Getting Down with Git: Version Control 101 for the Non-Developer
As a non-dev, whenever someone breaks down a common dev topic for me, I'll jump at the chance.
10:00 am – 10 Dashboard Design Principles & Best Practices for CRM Analytics
When I have a question about analytics, Jason Hoult is the man for the job. This session will hand you the toolkit to truly insightful analytics from your Salesforce org.
10:00 am – Developers: Give your Admins Super Powers with Flow!
Admins super powers is a session for you dev-minded folks! We love flow, we love Apex, but this session will dive into the magic that can happen when you combine the two.
2:00 pm – Team Building for Continued Success
Sometimes, we forget about non-technical topics. I'm so excited for this session with Michelle Vose, which promises hands-on activities and FUN! What more could you want?
3:00 pm – The Ultimate Swiss Army Knife: How Custom Metadata Turns You into an Admin MacGyver
This session will deep-dive into custom metadata, which isn't something most new admins have delved into. The deep-dive breaks down what custom metadata is, how you can use it, and how it can supercharge your admin work!
Friday
8:15 am – Avoiding Design Debt & User Frustration
Say it with me: "Design Debt isn't a problem until it is." I believe sessions like this are critical for moving from admin to a big-picture architect.
8:15 am – How do other customers do this?
If you've worked as an admin, you know there are common things we come up against all the time. This session will focus on those common issues and arm you with tools to address them!
9:15 am – Design Thinking for the Salesforce Architect
You'll find me in this session! The Twin Cities' user group leader Stuart Edeal will dig into the processes a Salesforce Architect will use and make this all available to YOU!
After sessions, what else is there to do in town?
As you find yourself in Minnesota, here is a long list that can get even longer very quickly, so we'll stick to two categories: where to eat and what to do. Once the sessions wrap for the day, you have many options.
To Eat
Mmm, my mouth is already watering. So, while you're downtown, definitely take time to check out the local cuisine. And, there are a LOT of options. I've included some of my favorites, both downtown and a bit further away (but worth the Lyft):
Butcher and the Boar is located downtown as the"Meat-centric American Grill",  B&TB is phenomenal. Known for its excellent beer garden and sausage pairings, this is a taste of Minnesota without going full-lutefisk.
Lotus Restaurant is located downtown. Known as the"Veteran Counter-Order Vietnamese Eatery", Lotus is literally across the street from the Hyatt Regency, and I will promise you there is no bad thing on the menu. This is a super fun hole-in-the-wall eatery. And soon, it'll become a favorite of yours.
Brit's Pub is located downtown. "Traditional English Pub with Games", Brit's is a two-story smorgasbord of English culture with a rooftop lawn for lawn bowling, bocce ball, and more.
The Local is located downtown. "Multi-roomed Irish Pub with Patio", this one gets my patio vote. On the newly-renovated Nicollet Mall, The Local has excellent food, from lighter fare to a hearty meal and an eclectic mix of brews and boozes to please everyone.
Manny's Steakhouse is located downtown. "Tony Fixture for Steaks, Seafood, and Wine", while Manny's comes with a heftier price tag, you cannot get any better for opulent steak and seafood, with sides served family-style. 
Nicollet Diner is located downtown. Known as the "24-Hour Breakfasts, Burgers, and Malts", the food here takes a little longer, but I can attest that every menu item is made from scratch. They're open 24/7, just two blocks from the hotel, and they serve the boozy malts, too.
Matt's Bar is located in South Minneapolis, "1954 Landmark Known for its Jucy Lucy" If you haven't had a Jucy Lucy, this is your first stop; it's even on the way to the hotel from the airport. It's cash only, and Matt's Bar is the originator of one of Minnesota's proudest achievements, the Jucy Lucy. 
Midtown Global Market, South Minneapolis, "Buzzy Globally-Themed Global Market" This is your spot for incredible global eats. You'll leave smiling from Taco Cat to La Loma Tamales to Holy Land Bakery and with live music most weekend nights.
Bar La Grassa, North Loop, "Lively Go-To for Upscale Italian Dining" – If the goal is to impress a client, BLG should be your top choice. With more options than traditional Italian dining, Bar La Grassa will check every box—no Process Builder needed.
Twin City Grill, Bloomington, "Polished Grill with Traditional Entrees" – Being honest, I'm pulling these taglines off Google, but this one seems to undersell. Twin City Grill is *the* place to try some very Minnesota dishes, from fresh Walleye (delicious fish) to baked Mac and Cheese (it's hotdish, not casserole) to the Famous St. Paul Chopped Salad (my personal favorite); you can't go wrong.
To Do
Honestly, what NOT to do. You have come at the very best time. Here are some options to make the most of it:
Loring Greenway/Park is located downtown. This park you will not be missing out on. Located at the entrance to the Loring Greenway, the Hyatt Regency has a beautiful garden/path that leads to Loring Park. With tables set up along the way, and several fountains, you should go for a walk every day.
Sculpture Gardens/Walker Art Center is located downtown. Continue that walk past Loring Park, across the beautiful Irene Hixon Whitney Bridge. You'll be in the Minneapolis Sculpture Gardens, starring at contemporary are and Minneapolis's famous Spoon and Cherry (and infamous Blue Cock), across from the Walker Art Center. The Walker boasts rooftop mini-golf and a stunning view of downtown.
Chain of Lakes is located in Uptown. Lake Bde Maka Ska (the Dakota name for the lake, as the previous namesake John C. Calhoun, was a noted advocate for slavery and expulsion of Indigenous peoples from the land), there is no argument when it comes to spending a summer day on the lake. With Kayak/Paddleboat rentals, 2.2 miles of walking paths, beaches, live music, and more, it's the epitome of Minnesota summer.
Mall of America is located in Bloomington. Look, I know. MOA seems very touristy, but if you've never been, sorry. You have to go. Home to restaurant #10 above, MOA is worth the visit, if not only because you forgot to bring enough clothes to stay for both Midwest Dreamin' AND WITness Success, and you need another outfit. You can ride a rollercoaster (Bikini Bottom Plunge is my coaster of choice), do an Escape Room, go bowling, see live music, shop everywhere, make your own Crayola Crayon, pet a stingray, and more, all within one building. See more fun facts at the end of the post!
Minnehaha Park and Falls are located in South Minneapolis. We have waterfalls, people! Minnehaha Creek is a lovely river/creek/brook that runs through the West and South metro, culminating in Minnehaha Falls. While listening to Siri pronounce "Minnehaha" is great, it's not even the best part of taking some time to walk through the park, grab a bite at Sea Salt Eatery, and get your best Instagram photo of the trip.
Go to a Brewery If you're looking for a fun taproom with beers on tap brewed in the Twin Cities, look no further. Minnesota is one of the best states for craft beer, and I'm not just saying that. Groupon ranked us #8 in the nation for beer-lovers. So please, visit a brewery—any of them. My favorites include Lakes and Legends (right around the corner from the hotel), Pryes Brewery (on the river), Bauhaus Brew Labs (live music almost always), Utepils Brewing, BlackStack Brewing, and Bad Weather Brewing….this could go on for a while. Tweet @ me for a personalized brewery recommendation!
Lake Harriet is located in Uptown. Connected to #3 above, Lake Harriet is in the Chain of Lakes and home to the Lyndale Park Rose Garden and Lake Harriet Bandshell, which hosts movies in the park. A must-do for a more chill, laid-back summer vibe. You can even travel on the historic Como-Harriet Streetcar Line to tour the lakes!
If you want to see a show in downtown Minneapolis or live music, you can't miss Dakota Jazz Club. More into comedy? Check out Acme Comedy Company's lineup while you're here or Open Mic Night at Comedy Corner Underground!
Catch a Sports Game. We love our sports, and the Twin Cities has a ton of fun in store for sports fans, and several home games will be happening while you're in town! On Friday night, catch the Minnesota Lynx game at Target Center downtown, or on Wednesday night, check out our newest stadium, Allianz Field in St. Paul, at an MN United FC game. Go Loons!
Are we there yet?
I know it's a lot to take in. While I leave you with a few fun facts, feel free to connect with me on Twitter or LinkedIn to discuss spots for a client happy hour, dinner with your team, a fun night out with friends, and more. We can't wait for you to visit and hope you have an amazing time.
See you soon!
Allie Lawler
DID YOU KNOW?
….The Mall of America has its own Zip Code, 55425. It's just that big!
…. We're the Land of 10,000 Lakes, but we have almost 12,000. The shorelines of our lakes add up to nearly 45,000 miles of shore—more than all of California's lakes AND coast combined!
….Our State Bird is the Common Loon, and you should ask any native Minnesotan to mimic a loon's call for you.
….We have the nation's first-ever enclosed mall, and it's not even MOA! Southdale Mall in Edina holds that title.
….Akeley, MN, is the birthplace of Paul Bunyan (Paul Bunyan State Forest) and home to the world's largest Paul Bunyan statue. You can take photos with him, standing on his hand!
….If you walk around every level of Mall of America, you'll walk over two miles.
….You might notice streets in Northeast Minneapolis named after presidents, in order. This was to help immigrants pass their citizenship tests!
….The University of Minnesota folks invented the Honeycrisp apple and performed the first-ever successful open-heart surgery.
….The Mall of America has no recycling bins or heating/AC systems. A team hand-sorts all trash to ensure the maximum amount is recycled, and the mall hosts a micro-ecosystem, the space, and fans helping to regulate temperature at a perfect 72 degrees year-round.
….Minnesota hosted (and continues to host annually) the world's first Cat Video Festival.
….Minneapolis boasts the longest continuous skyway system in the world. As a result, some of us can even walk to work 100% indoors on cold days.